Getting a good headshot is important for new businesses, but the cost of working with skilled photographers can be prohibitive at that point in the lifecycle of a business. Petruzzo Photography offers regular Headshot Days, where you can get a great headshot, for a great price. See the FAQ at the bottom of this page for more details, or email info@petruzzo.com.
Learn more about our portrait services for professionals on our website, or look for a Headshot Day near you below!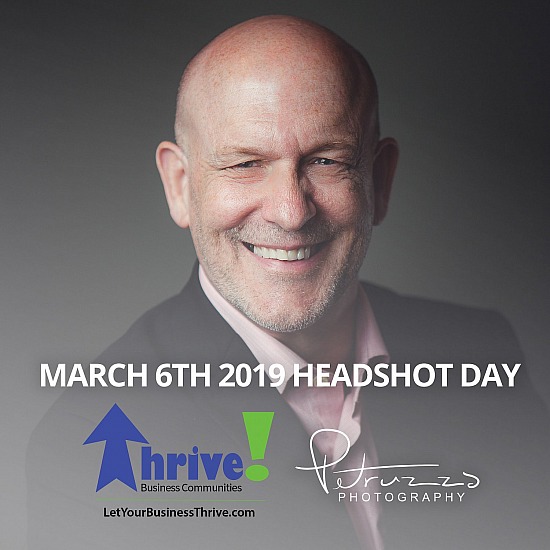 Thrive Business Communities Headshot Day - March 6, 2019
$70
Location:
Ratti Lending @ Envoy Mortgage
102 Old Solomons Island Rd., 1st Floor, Annapolis
Time:
9:30am - 11:30am
Sessions will be held every 15 minutes and will last about 10 minutes each. We will create multiple images for you to choose from, and one royalty-free high resolution digital file is included with your booking. Turn around time will be approximately 14 business days.
We will be sticking to a strict schedule, so you must arrive on time. Late arrivals will be considered cancellations and no refunds will be assessed. Space is limited, book now!
Price starting at $70

Loading more pages
FAQ:
Q: How many images will I have to choose from?
A: You will have between 10 and 15 images to choose from.
Q: What are royalty-free digital files?
A: Royalty-free digital files are files you are allowed to display and use for whatever purpose you like, without having to give attribution to the photographer.
Q: What if I need to cancel?
A: If you wish to cancel your slot for a refund, you must make your cancellation at least 7 days in advance. Otherwise, there are no refunds.
Q: Where will the session take place?
A: Headshot days are held in public places throughout the Washington DC area. The location for each Headshot Day will be listed on the booking website.
Q: How long will it take to get the photos back?
A: Proofs will be available within 10 days. Once your selection is made, delivery of the finished images may take up to 3 business days.
Q: Can I bring a friend?
A: You are welcome to bring a friend, however, Headshot Day sessions exclusively include one person. If space is still available on Headshot Day, they may have the option to fill an empty slot.
Q: Will you touch up my images?
A: We will remove non-permanent blemishes from the images you select. Advanced retouching, such as skin smoothing, is available for an additional fee.
Q: Can I change clothes mid-session?
A: Due to the length of Headshot Day sessions, changing clothes is not recommended, and may reduce the number of images you have to choose from.